AT&T Investigates Godzilla Box Explosion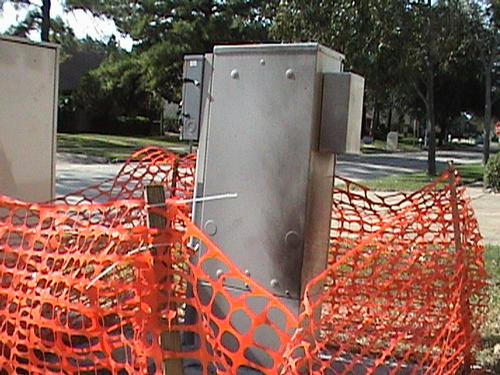 AT&T Investigates DSLAM Explosion
: "AT&T Investigates DSLAM Explosion
Light Reading ^ 7-7-06 Phil Harvey
Posted on 11/07/2006 9:04:48 AM PST by Snickering Hound
AT&T says it is still investigating what caused one of its access equipment cabinets to explode and catch fire in a suburban Houston neighborhood nearly two weeks ago.
According to residents in the 8200 block of Clover Gardens Drive, the explosion shook one nearby house, damaged a fence and some siding, and destroyed several thousand dollars worth of telecom gear, including a DSLAM, installed as part of AT&T's Project Lightspeed..."

"...Whatever the cause of the explosion, Harrison recounts that his wife, Mabel, who was home when the DSLAM cabinet was destroyed, said the blast was significant and debris went in at least two different directions. "It went about 50 feet to the other side of the yard and some pieces of the box went down the street," he says. "It shook the house pretty good."